Archive for July, 2012
Miles said:
European Investments – follow up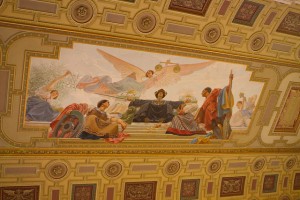 I was fortunate to stay for a few days in Porto, Portugal on our recent trip to Europe. While I was there I spent a Saturday touring the city which included a guide led tour of Palacio da Bolsa. The building was commissioned in 1851, it was developed in stages, the works were completed fifty years later. The building was established by private businessmen as a center of commerce and trade. It was the site of the Porto Stock Exchange until it was merged into Lisbon in 2001 and it continues to operate as the site of the local Chamber of Commerce.
As we were guided from room to room we entered a small Law Court. The painting on the ceiling (pictured above) was described by the guide as representing the Courts' function of defending the institutions of trade and commerce.
The irony was not lost; I felt the sentiments expressed over a hundred years ago in this painting are appropriate today. It also aligns with our thinking that the current European issues aren't something new, more so their genisis lies in multi generational cultural differences.
Thursday, July 19th, 2012
Recent Posts:
Archives: